2__OPENING ACT

OPENING ACT VIDEO COMING SOON.

FLYER AND STAGE PICTURES BY MASA YUASA:

&nbsp &nbsp &nbsp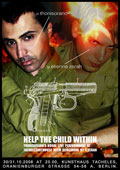 &nbsp &nbsp &nbsp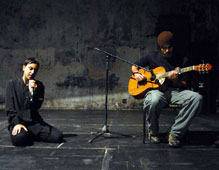 &nbsp &nbsp &nbsp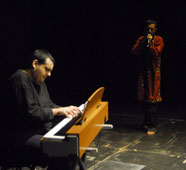 TUESDAY 30 E FRIDAY 31 OCTOBER 2008 AT KUNSTHAUS TACHELES IN ORIANENBURGER STRASSE IN BERLIN INTO THE EVENT PASOLINI SONGS WITH MANUELA NASO DIRECTION [INSTABILE THEATRE BERLIN, GERMANY].
PITCH DARK. A SWEET VOICE, CAN'T TELL IF IT'S MALE OR FEMALE, STARTS SINGING A SICILIAN CRADLE SONG; AN ANCIENT SONG, THAT BECAME POPULAR BECAUSE OF ROSA BALISTRERI, A SICILIAN FEMALE SINGER. THAT VOICE IS THONI SORANO'S AND HE GOES NUZZLING NEXT TO THE GUITAR PLAYER, HE SINGS TO THIS IMAGINARY CHILD SUDDENLY SHIFTING TO A DIFFERENT VOICE TONE IN THE END, AS FORESEEING MAYBE THE END OF THIS CHILDHOOD. DARK. THERE YOU SEE THE PICTURES OF AN AFGHAN BABY ALL SURROUNDED BY MOLANA RUMI'S LYRICS, PICTURES OF DRY, DESERTED LANDSCAPES AS THE EARTH'S HARDNESS; PERSIAN CALLIGRAPHY PICTURES, A LITURGY OF PURITY. THE PERSIAN WORD FOR PURE "NAB" STANDS OUT, ALSO TATTOOED ON THONI'S BODY; FOLLOWING SATELLITE IMAGES OF THE MIDDLE EAST REGION, OUR SACRED PLANET. YET MUSIC IS GRADUALLY CHANGING, ITS TEMPO INCREASES, TENSION RISES AND A DISPLAY OF GUNS COMES; WEB IMAGES THAT SHOW A KIT TO MAKE YOUR HOME MADE GUN [IT'S LOTTA FUN – IT SAYS]. IT IS A COMBINATION OF IRONY AND HORROR. THERE YOU SEE AN ARMS FACTORY ADVERT (INVENTED BUT SEEMING) WHERE THE PRODUCT, A GUN, IS OFFERED ON A SILVER PLATE; SOLDIERS SEEN AS MEN WHO ARE VICTIMS OF THEIR SEXUAL INSTINCTS [WAR AS MACHISM], OR SIMPLY SCARED. EVERY KIND OF BOMB OR DEVICES ARE SHOWN, ALSO A CONTROL ROOM WHERE SOME SERVICEMEN, SEEMINGLY TENSE, ORGANISE THE OPERATIONS. MEANWHILE SUBTITLES POINT OUT SIMPLE YET CRUCIAL ISSUES: "IN FAVOUR OF, OR AGAINST LIFE?", "SELF DEFENCE? SELF OFFENCE!", "ASK: WHO MADE THE BOMB?". THE BOUNDARY BETWEEN STUPIDITY AND CLEVERNESS IS THIN IN THE REALM OF WAR, A MAN IS REQUESTED FOR PARTICIPATING AS "A MEANS TO AN END, AN EXPENDABLE COMMODITY", THUS STATES THE BUDDHIST PACIFIST DAISAKU IKEDA IN THE VIDEO FINAL QUOTATION. THE SLIDE SHOW ENDS. SILENCE. THONI SLOWLY STRETCHES ON THE FLOOR, HE HOLDS A TURKMEN KAFTAN AND WEARS IT, HE'S BACK TO A HUMAN CONDITION AND STARTS SINGING A NOSTALGIC ARMENIAN LOVE SONG CALLED "DILE YAMAN" WHICH IS ABOUT LOVE AND SEPARATION FROM THE NATIVE LANDS. A SONG COMING FROM A COUNTRY WHICH WAS DEVASTATED BY WAR IN THE LAST CENTURY. THONI SINGS BOTH IN ARMENIAN AND TURKISH, THEREFORE WISHING THESE TWO PEOPLE TO RECONCILIATE AFTER ALL THE PAST HATRED. MORALIST? ANTI-MILITARIST? YOU MIGHT DISMISS THIS PERFORMANCE LIKE THAT, NEVERTHELESS IN THE FINAL VIDEO SHOTS, ALL SHOWING NUCLEAR EXPLOSIONS, WE READ "FASCINATING!", WHICH IMPLIES AND ADMITS THE FACT THAT VIOLENCE AND WAR ARE APPEALING TO A PART OF OUR SOUL. IT IS UP TO US TO CHOOSE, AS A CHILD WOULD, WHOSE SIDE WE'RE ON.
GIOVEDì 30 E VENERDì 31 OTTOBRE 2008 AL KUNSTHAUS TACHELES IN ORIANENBURGER STRASSE A BERLINO ALL'INTERNO DELL'EVENTO PASOLINI SONGS CON LA DIREZIONE DI MANUELA NASO [TEATRO INSTABILE BERLINO, GERMANY].
BUIO TOTALE, UNA VOCE DOLCE, NON SI DISTINGUE IL SESSO, INIZIA A CANTARE UNA NINNA NANNA SICILIANA, "LA SIMINZINA"; ANTICA, RESA POPOLARE DALLA CANTANTE ROSA BALISTRERI. LA VOCE È DI THONI SORANO, LENTAMENTE EGLI SI VA AD ACCOCCOLARE AI PIEDI DEL CHITARRISTA. E' UN CANTO RIVOLTO A QUESTO BAMBINO IMMAGINARIO, CHE NEL FINALE VEDE UN BRUSCO CAMBIO DI VOCALITÀ, QUASI A PRESAGIRE LA FINE DI QUESTA INFANZIA. BUIO. SI APRE L'IMMAGINE DI UN BIMBO AFGANO CONTORNATO DI VERSI PROVENIENTI DA POESIE DI MOLANA RUMI, APPAIONO IMMAGINI IN BIANCO E NERO DI PAESAGGI DESERTICI, ARIDI, LA DUREZZA DELLA TERRA; IMMAGINI DI CALLIGRAFIE PERSIANE, UNA LITURGIA DELLA PUREZZA; CAMPEGGIA LA PAROLA "NAB"[PURO], TATUATA ANCHE SUL CORPO DI THONI, INFINE ECCO FOTO DEL MEDIO ORIENTE RIPRESE DAL SATELLITE, LA SACRALITÀ DEL NOSTRO PIANETA. MA LA MUSICA, LETTERALMENTE, CAMBIA, INCALZA NELLA TENSIONE ED APPAIONO PISTOLE, IMMAGINI TRATTE DA INTERNET DOVE SI VENDONO KIT PER COSTRUIRSI UNA PISTOLA IN CASA; IRONIA E ORRORE SI INTRECCIANO: LA PUBBLICITÀ DI UNA FABBRICA D'ARMI (DAL NOME INVENTATO MA VEROSIMILE) DOVE SI OFFRE IL PRODOTTO, UNA PISTOLA, SU UN PIATTO "D'ARGENTO"; SOLDATI VISTI COME MASCHI VITTIME DEI PROPRI ISTINTI SESSUALI [LA GUERRA COME MACHISMO], OPPURE SEMPLICEMENTE SPAVENTATI. SFILANO OGNI GENERE DI BOMBE ED ORDIGNI; IMMAGINI DI SALE OPERATIVE DOVE UOMINI, VISIBILMENTE TESI, COORDINANO L'ANDAMENTO DI OPERAZIONI MILITARI. LE DIDASCALIE, NEL FRATTEMPO, PONGONO SEMPLICI QUESTIONI: "SIETE A FAVORE O CONTRO LA VITA?", "AUTODIFESA? AUTO OFFESA!", "CHIEDI: CHI HA COSTRUITO LA BOMBA?". IL CONFINE TRA STUPIDITÀ E INTELLIGENZA È LABILE NEL MONDO DELLA GUERRA, SI RICHIEDE ALL'UOMO DI PARTECIPARVI "COME FOSSE UNA MERCE DA SPENDERE", COME SI LEGGE NELLA CITAZIONE FINALE DEL PACIFISTA BUDDISTA DAISAKU IKEDA. IL VIDEO TERMINA. NEL SILENZIO THONI SI ALLUNGA SUL PAVIMENTO, PRENDE LENTAMENTE UN ABITO, UN KAFTANO TURKMENO, E LO INDOSSA. INIZIA A INTONARE UN CANTO PROFONDAMENTE NOSTALGICO, È "DILE YAMAN"; UNA CANZONE D'AMORE ARMENA CHE NARRA DELLA SEPARAZIONE SIA DAL PROPRIO AMORE CHE DAI PROPRI LUOGHI D'ORIGINE. UNA CANZONE NATA IN UNA TERRA CHE FU DEVASTATA DALLA GUERRA NEL SECOLO SCORSO; THONI CANTA SIA IN ARMENO CHE IN TURCO COME AUGURIO DI RICONCILIAZIONE TRA QUESTI DUE POPOLI DIVISI. MORALISMO? ANTIMILITARISMO? PROBABILMENTE SI POTREBBE LIQUIDARE QUESTA PERFORMANCE CON SIMILI DEFINIZIONI; IN REALTÀ, SUL FINALE DEL VIDEO, ALL'INTERNO DI UNA SERIE DI IMMAGINI CHE MOSTRANO DELLE ESPLOSIONI NUCLEARI, SI LEGGE "AFFASCINANTE!". SI AMMETTE CHE, COMUNQUE, LA GUERRA E LA VIOLENZA HANNO UN RICHIAMO ALLA FASCINAZIONE PER L'UOMO. STA A NOI PERÒ SCEGLIERE, COME FAREBBE UN BAMBINO, DA CHE PARTE STARE.